When you become a mother, it can be hard to prioritise anything above the needs of your child. They become your world, your everything, the thing that needs your undivided love and attention. What used to seem important is now at the very bottom of your to-do list and before you know it, your own health and wellbeing is put on the back burner. This is completely normal as it's easy to prioritise your family and loved ones before taking care of yourself. We're sorry to break it to you, but this can't last forever.
Eventually, you'll get burnt out and have to face the consequences of putting your physical and mental health on pause. Here at Nutrition Warehouse, we understand the pressures that many mothers face and we're here to help you get your health and fitness back on track.
A shared concern amongst mothers is that finding the time to exercise is extremely difficult. And when you do find time, it's used to rest, sleep and recover. So, what's the trick? How are mums finding the time to exercise? Here are the top 5 hacks that mothers use to stay on top of their health and fitness.
Start Small
Don't expect to hop out of bed 2 weeks postpartum and head into the gym. This is not realistic! It's important to reserve time for you to heal and get you feeling like yourself again. Before you consider doing rigorous exercise, you should start small. An extremely common issue that many women face is in relation to the pelvic floor. The pelvic floor muscles experience great strain during pregnancy and childbirth and can become weak postpartum. You might find that you leak urine when you sneeze or cough. This is extremely common, so there's no need to be embarrassed! You can find tutorials on how to perform pelvic floor exercises all over YouTube. Start here and when you're ready, you can think about incorporating more strenuous movements.

Walk with your baby
It might sound simple, but many of us feel like if we're going to exercise at all, it has to be a sweaty gym session. This is not the case! If you can't manage to get some solo exercise time, bring your minnie me with you. Whether they're in a sling or a pram, the fact that you're getting up and out of the house is a great first step. Don't put too much pressure on yourself to walk a thousand miles, start small and work your way up. You'll be surprised how beneficial walking is for weight loss and overall health. Get out and enjoy the sun, without having to rush to get back to your baby.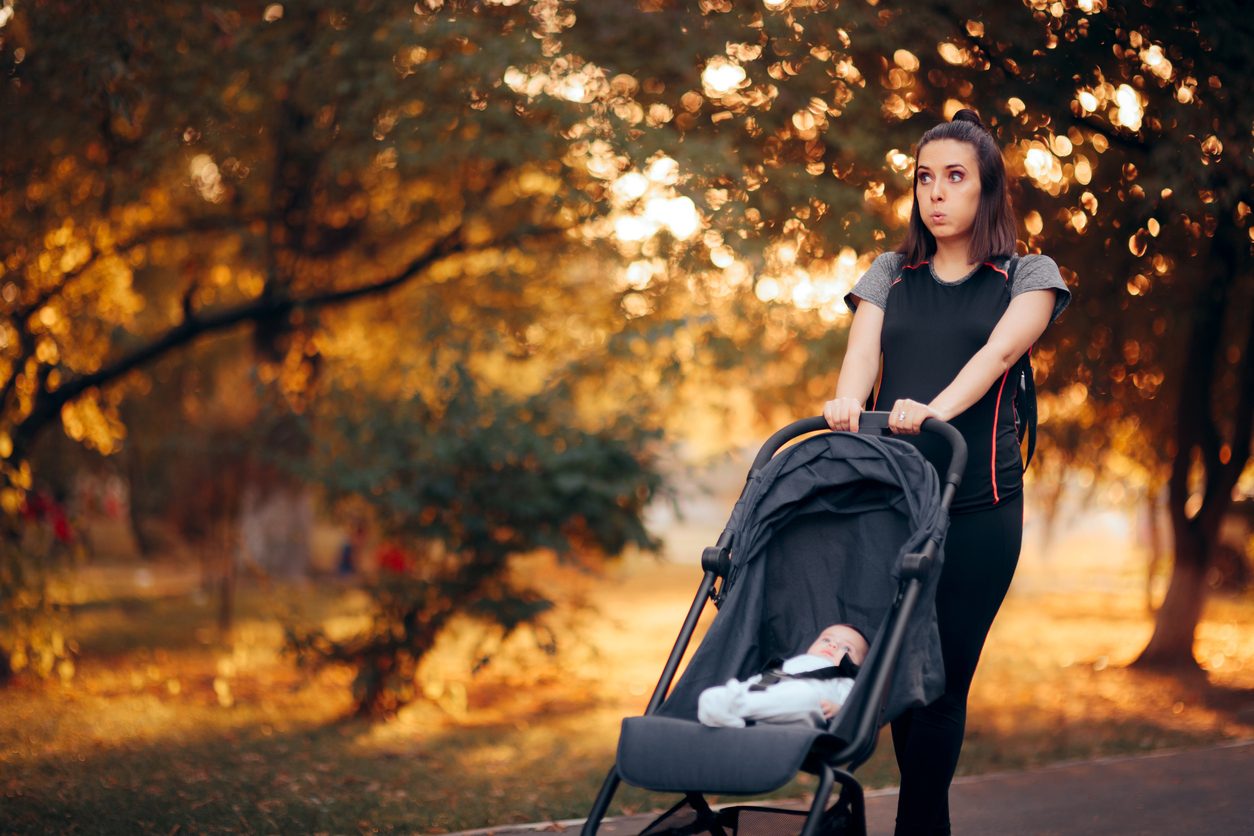 It's a great idea to invest in a good baby carrier, so you're not putting strain on your neck, shoulders or back. A good quality sling will keep both you and your baby comfortable while you're burning off some calories and enjoying the outdoors.
Postpartum Classes
Stepping back into the gym after pregnancy can be daunting. With all of the injuries and damage that can come with childbirth, the thought of exercise can be extremely off-putting. Luckily, there are classes made specifically for postpartum. These classes are filled with women who are feeling the exact same was as you are, so there's no need to feel scared or intimidated.
The exercises will typically be slow and controlled movements designed to get you feeling stronger and more agile again. You may find these classes at Yoga or Pilates studies or even at your local gym. Some providers even let you do the class with your baby! Find a yoga studio or gym near you and see what they have to offer.
Short and Intense Workouts
When the kids have gone to bed or have settled down for a nap, it feels as though the timer starts ticking. You only have so many minutes until you're back on the clock again. A great way to utilise your time, is to follow quick, high intensity workouts. Also known as HIIT (high intensity interval training), this style of training is perfect for anyone looking to burn maximum calories in a short amount of time.There are many free videos on YouTube that are 'follow along' workouts, making it easy to press play and get moving. Put your headphones in and find an open space in your home and get to work!
Be Realistic and Don't Compare Yourself!
When you start working out after having a baby, it can feel like you're starting your fitness journey all over again. There are going to be plenty of woman on social media that seemingly 'bounce back' straight away, but remember, be realistic! Everybody is different and as long as you're giving it your best shot, there's no need to be upset. Be realistic with your time, your schedule and the amount of commitments you have. Just because Stacy next door is exercising 2 hours a day every day, doesn't mean that's the right amount for you.
Reflect on your daily routine and figure out when you have breaks and free time. Remember, do it for yourself! Looking after yourself will not only make you look good, but make you feel good. Exercise can relieve stress and help with mental focus and clarity, which could even improve your daily motherly tasks. So, make an effort to find the time, but don't lose sleep if you miss a workout. If you're wanting to further support yourself, there are many vitamins and supplements specially designed to help you during this transformative time in your life. Adding a supplement to your self-care routine in the morning is a small act that can have great changes.
Being a mother is hard work and being a mother that also prioritises their health and fitness should be called superwoman.
Recommended Products
---
---