Are you getting frustrated with your results? You are putting in the effort training and eating well but the effort just is't paying off? There may be simple reason. Rest. Are you giving your body enough time to recover, restore and rest so that you can train harder, run faster, lift heavier?
Rest is a basic need of the human body, that is required to function at optimal levels. However with today pace of life we often overlook this, trying to cram in as much as we can in the in the 24hrs we have. Being constantly 'on' makes it difficult to turn off. Our phones, emails, social accounts, messages etc are always beeping with notifications that keep our minds stimulated and unable to turn off so we can enjoy the much need rest out bodies require.
There are a number of remedies and products available to assist with rest, however one of the latest products to hit the market that is gaining traction is HydroxyBurn Sleep Rx by Body Science.
So what does it do?
Hydroxyburn Sleep Rx is a formula that has been specifically formulated for sleep:
It contains herbal medicines that have been traditionally used in Western herbal medicine to decrease, reduce, and relieve sleeplessness.
Calms the mind
Soothe and calm nerves
Decrease, reduce, and relieve symptoms of mild anxiety
Aids, assists, and helps synthesis of neurotransmitters
Maintains and supports nervous system health
Enhances, improves, promotes, and increases cognitive performance
Maintains and supports cognitive function/mental function
Maintains and supports memory/mental recall
Overall, it maintains and supports general mental wellbeing
What makes Hydroxyburn Sleep Rx different to other formulas on the market:
Maintains and supports muscle health in athletes
Maintains and supports muscle strength after exercise in athletes
Aids, assists, and helps post exercise recovery
Supports healthy body stress recovery after exercise in athletes
Antioxidant. Reduce free radicals formed in the body
Helps reduce and decrease free radical damage to body cells after exercise
Maintains and supports red blood cell health
It maintains and supports healthy blood sugar and aids, assists, and helps glucose, sugar, and carbohydrate metabolism
Dr Brad McEwen PhD, MHSc (Hum Nutr), BHSc, Adv Dip Naturopathy, Dip Botanic Medicine, Dip Nutrition, Dip Sports Medicine (Naturopath, Nutrition expert, Herbalist, Educator, and Researcher) believes sleep is an esential ingredient in our physical health and likes the formulation of the product.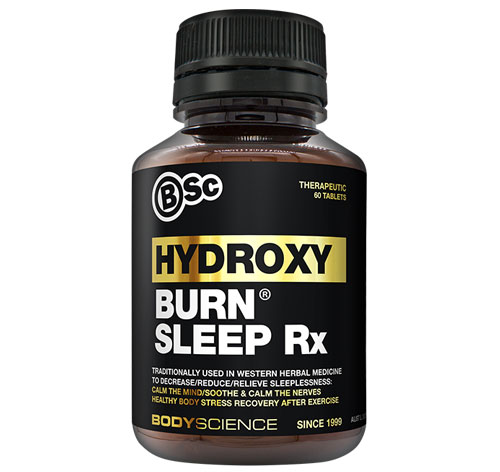 "What I particularly like about Hydroxyburn Sleep Rx is that it contains herbs and nutrients that I have been prescribing in clinical practice for over a decade, all in one product. It has been specifically formulated for sleep. It has a wide range of applications, including aiding in the synthesis of neurotransmitters, maintaining and supporting nervous system health, memory, and recall, and improves cognitive performance. It calms the nerves and mind, supports general mental wellbeing, and relieves the symptoms of mild anxiety. It is an antioxidant that reduces free radicals formed in the body, very useful to support recovery after exercise, especially in athletes. Additionally, it contains nutrients that maintain healthy blood sugar. All of these applications help benefit sleep. Something to note is that Hydroxyburn Sleep Rx is a listed medicine with the TGA, so you know that safety and quality are of utmost importance and you know what you are getting is the real deal."
If lack of quality sleep holding you back from achieving your goals? A therapeutic restorative sleep formulation, such as HydroxyBurn Sleep Rx may be the answer to provide you with better sleep and in turn assist with your overall well being.