Today is R U OK? day. This Australia-wide initiative encourages us to check in with our friends, family, work colleagues and acquaintances that we're worried about. The R U OK? charity seeks to connect people and have difficult conversations that can help others overcome difficult times in their lives.
Their mission is clear: inspire and empower people to meaningfully connect with those in their world and lend support when they are struggling with life. R U OK?'s vision is to connect and protect the world from suicide by championing a national Conversation Movement that can help equip Australians with the skills and confidence needed to ask the most important question: "Are you OK?"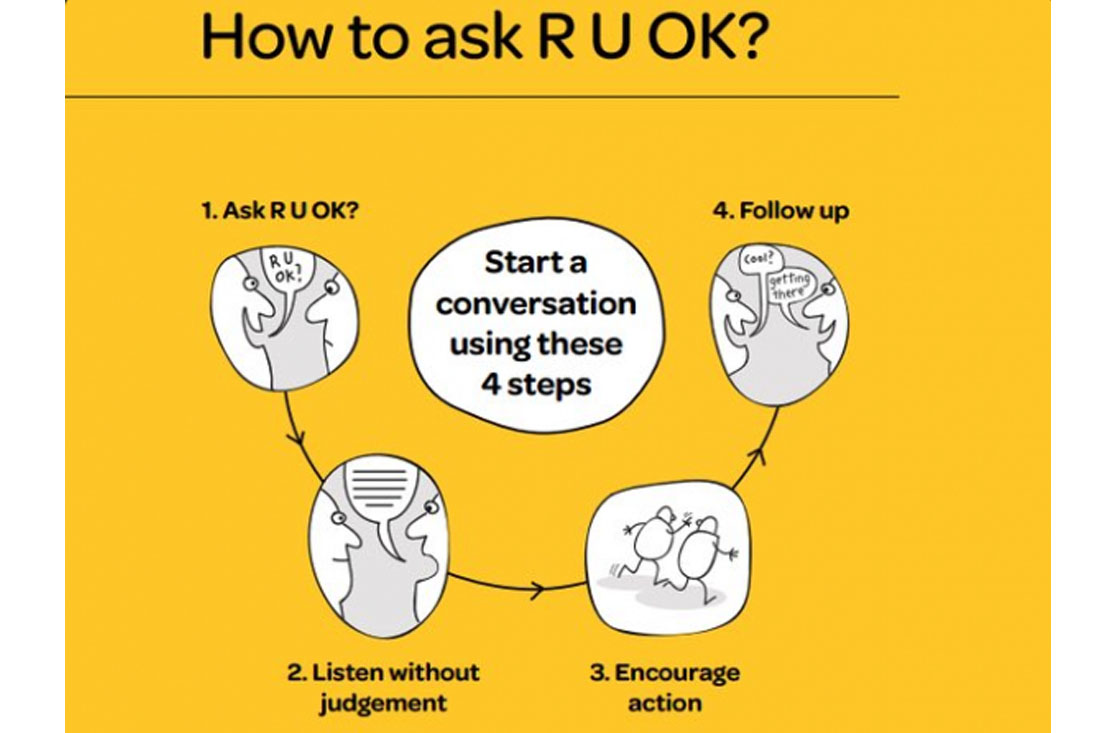 Admittedly, it can be very difficult to start a conversation and keep it going when someone says they're not OK. It's important you check in with your own emotional and mental state before addressing someone else's. If you're not in a good space, see if there is someone else in their network that can have the conversation. If you feel that you're in a good headspace and ready to listen, here are a few tips on how to ask:
ASK R U OK? – Be relaxed and friendly and concerned in your approach. It can help if you mention specific things you've noticed in their behaviour and remember, if they don't want to chat, don't criticise them and avoid confrontation
LISTEN WITH AN OPEN MIND – It's important to take what they say seriously. Too often people have mistaken behaviours for attention-seeking. Try not to rush the conversation and sit patiently with them if they need time to think. Show you have been listening by repeating back what you've heard.
ENCOURAGE ACTION – If you've noticed that they've been feeling down for longer than 2 weeks, try and encourage them to seek professional help and offer to help find the right professional for them. You can offer your own tips and actions for how you've dealt with difficult situations or feelings. If the conversation is too big for friends or family to take on, contact a professional as soon as you can.
CHECK-IN – Stay in touch and show genuine care and concern. Try adding a reminder in your phone to give them a call and see how they're progressing. If they've not been able to find a better way to manage the situation, don't judge them and offer a sympathetic ear.
Important link:
https://www.ruok.org.au/how-to-ask
https://www.ruok.org.au/findhelp
https://www.suicidecallbackservice.org.au/