With the Easter long weekend fast approaching how can you stay healthy through Easter? With all the chocolate and hot cross buns available and family get-togethers, you might think it's impossible to keep on top of your fitness and health goals this Easter. But don't worry, here are some simple little changes you can make to stay on top of it for the next few days:
Plan ahead:
As we know if you fail to plan, then you plan to fail. Plan ahead what you will eat through the long weekend, so you don't risk a sugar blowout. You need to remember to fill up on healthier alternatives like fruits, salads, nuts, high fibre grains and lean meats. So the tip here is to stock up on healthy wholesome foods so when it comes to eating you are filling up on good stuff! And of course, leave some room for some chocolate, after all, we all deserve a little treat!
Stay Active:
Use the extra days off to go for a big walk/run or even get in some squats, push-ups and walking lunges. Moving your body at least once a day will give many benefits not only physically but also mentally. Plus staying active is also good for the immune system. Verve has crafted the perfect workout for your Easter long weekend! Check out the Earn your Buns this Easter Workout!
Enjoy:
You can still enjoy a treat here or there. Just because you have opted to stay healthy through Easter, it doesn't mean you can't have a little chocolate! But just remember to have self-control when you do have a treat! One way to help avoid the overindulgence is by limiting yourself to a certain amount of chocolate treats or hot cross buns you can have during the Easter long weekend.
Another way is to choose healthier versions of your favourite Easter treats. To help you with that I came across this delicious and healthy Hot Cross Bun Recipe from Lola Berry, a leading Australian nutritionist, author and yoga teacher. Here's Lola's recipe, which is gluten and sugar-free and paleo-friendly. Happy Healthy Easter!
You can find more delicious and healthy recipes from Lola Berry in her book The Happy Cookbook and you can also follow her on Instagram: https://www.instagram.com/yummololaberry/
---
Healthy Paleo Hot Cross Bun Recipe By Lola Berry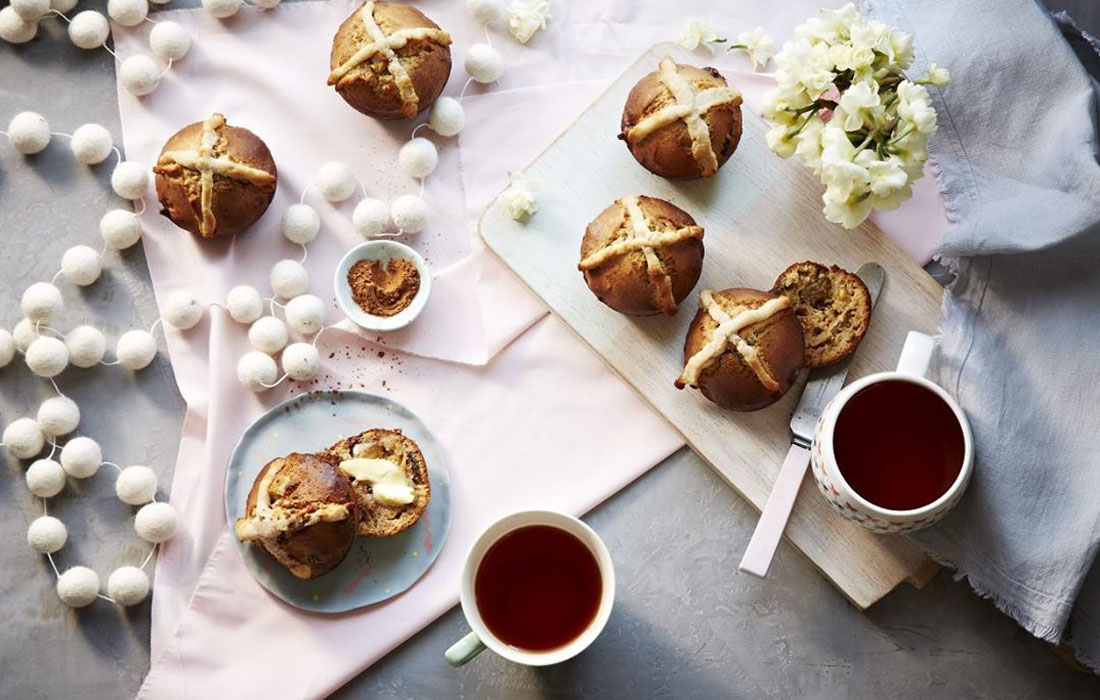 Batter:
Coconut oil to grease the muffin tray
2 cups of almond meal
2/3 cup of tapioca flour ( you can use almond meal if you don't have tapioca flour)
2/3 cup of arrowroot flour( you can use almond meal if you don't have arrowroot flour)
1 teaspoon of baking powder
1 teaspoon of cinnamon
½ teaspoon of allspice
¼ teaspoon of cloves
½ teaspoon of nutmeg
Pinch of salt
½ cup of raisins
Zest of 1 orange (optional, some people don't love the orange zest in their hot cross buns)
3 organic eggs
½ cup of coconut oil, melted
¼ cup of honey (maple or coconut nectar also works brill)
Cross:
¼ cup of coconut oil, melted
2 tablespoons of maple syrup (can use honey and or coconut nectar)
3 tablespoons of coconut flour
1 egg white
Method:
Preheat oven to 180 degrees, and grease a muffin tray, this mix should bring about 12-14 muffins. Start by mixing together all your dry ingredients. Add the raisins and orange zest (if using), eggs, coconut oil and honey. Then mix the batter together really well, watch out for lumpy bits. Spoon the batter into the prepared muffin tray.
To make the cross mixture, in a separate bowl mix together the coconut oil, maple syrup, coconut flour and egg white. Pour mix into either a piping bag or a plastic kitchen bag and snip one corner off then pie the cross on the top and pop into the oven and bake for 20 minutes until the buns have risen and are slightly golden.
You can enjoy it with organic butter! Or toast top with organic butter, then coconut nectar or honey and a pinch of cinnamon! Warning they're dangerously addictive!
*Image by Armelle Habib from The Happy Cookbook published by Plum. Visit https://lolaberry.com/ to check out her other books.