Before you know it, it will be Christmas, and that means summer barbecues, festive parties, and family functions are fast approaching! If you have previously been victimised by the "silly season seven" (seven kilos you gained from the Xmas aftermath), I'm here to share with you some easy ways you can stay on track with your fitness goals while also enjoying social events with your family and friends.
A couple of champagnes and a piece of pavlova won't undo all of the training sessions you've smashed this year, however, overindulging in food and alcohol may. Here are a few tips to help you stay on track and beat the silly season bulge.
Be merry in moderation
The holiday season is meant to be enjoyed, but you don't have to consume your body weight in food to do so. Save the treats for those special occasions and keep your fridge stocked with lots of healthy and nutritious foods. Stick to your usual meals when you're not socialising and make conscious food decisions.
Load your plate with the good stuff
You may not have much control over what's on the menu at your work Christmas function, but you can still make smart decisions with what you pile on your plate. Try and stick to the 80/20 rule: 80% whole foods and 20% "naughty foods".
Foods to make up 80% of your plate:
Proteins (ham, turkey, chicken, seafood, tofu)
Fresh salads and vegetables
Whole grains
Fruit
Foods to make up 20% of your plate:
Crispy roast potatoes
Sides made with creamy sauces
Cheese and dips
Desserts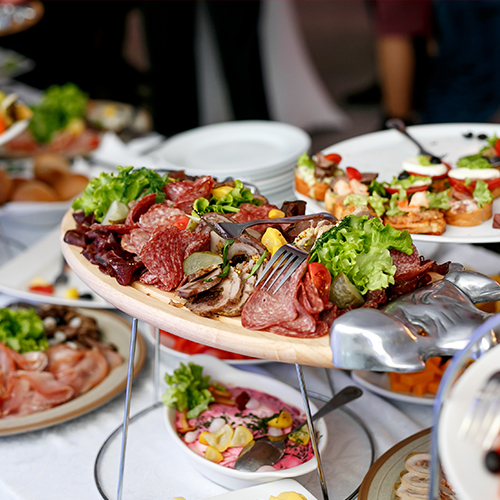 Sweat it out
Food is fuel, so put the extra calories to good use and keep up your training. If you're on holiday and don't have access to a gym, there's no reason you can't squeeze in a few at-home workouts or long beach walks! Exercise supports blood flow to your muscles which will help to keep the muscles in your digestive system moving so food can pass through faster.
Send guests home with leftovers
Hosting a social event + everyone brings a plate = leftovers for days!
Sometimes it's the day after the event that can send you off-track, rather than the celebration itself. Instead of going ham on the delicious leftover potato salad and mango trifle, keep some takeaway containers on-hand and send your guests home with the leftover food. Not only will this make you a popular host, but it will also remove any temptations that could induce a midnight snack rampage.
Have a protein shake before your event
Drinking a protein shake before you head out to socialise will help you control what you eat at events as you won't be dying of hunger and want to eat everything in sight. Most festive season eats are also higher on the carbohydrate and fats side, so protein shakes are a great way to boost your protein intake so you can maintain your summer gains.
Recommended Products
---
---
Overindulged? Get straight back on track
It happens to the best of us! Despite all the pre-planning you do, sometimes you can get a bit carried away in the moment and overindulge. Just because you went a little overboard one day, it doesn't mean you have to write off the rest of the week entirely. Start the next day with a morning walk, followed by a healthy breakfast, and you will be back on track to reaching your health and fitness goals.